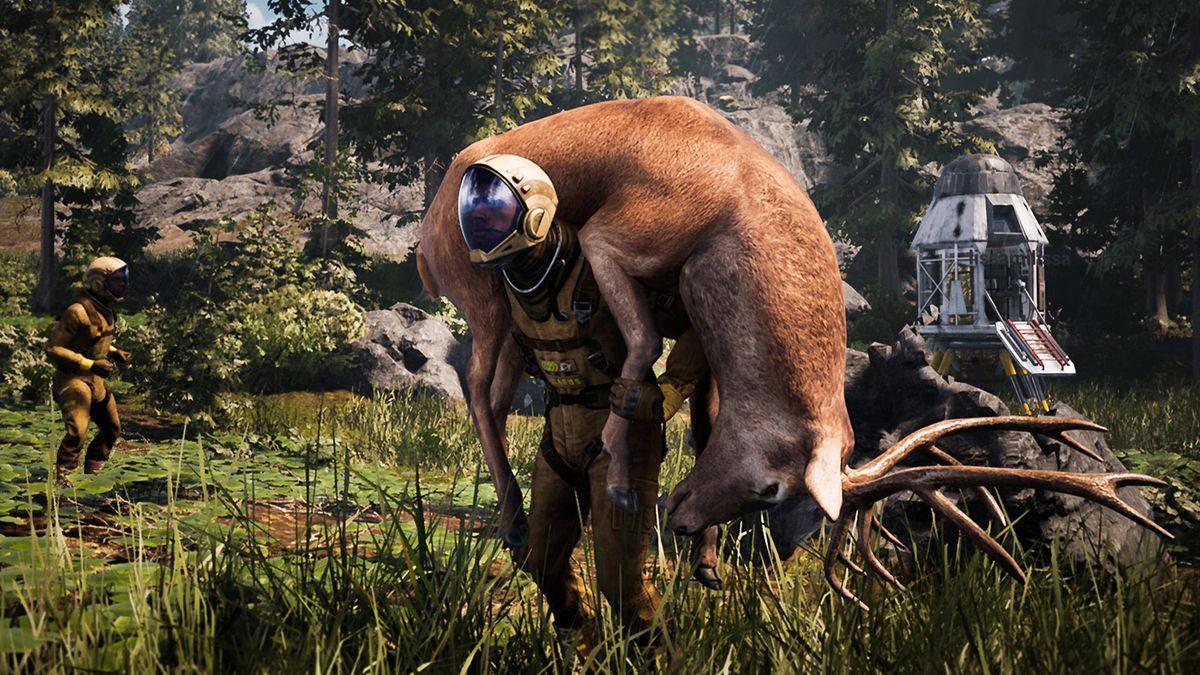 Our appetite for crafting survival games has yet to be filled and Icarus is the next big one on the menu. First announced at the PC Gaming Show in 2020, the upcoming co-op survival game is being developed by Dean Hall (of DayZ fame) with Rocketwerkz. In Icarus, players descend onto a hostile alien world from an orbiting space station to gather valuable exotic resources, build tools and structures, hunt (and be hunted by) wildlife, and try to make it back to their space station alive.
Its key feature is session-based survival, meaning that each mission has a limited time for you to complete it before returning to the space station on your drop ship. You won't be getting attached to any particular base or locale, focusing on meta progression through blueprint and skill unlocks across missions instead.
We got to play Icarus before it launched, as you can see in the short video above, so we've got plenty of first-hand details to give you, too.
Here's everything we know about Icarus.
What is Icarus' release date?
The Icarus release date is December 4, 2021. It was previously planned for November 2021 before being pushed back in a short delay.
"RocketWerkz has a multi-year plan for Icarus," reads a press release sent to PC Gamer, "adding chapters with additional playable content and lore. The first chapter, The First Cohort, begins in Icarus' most Earth-like biomes before the game expands to more alien and threatening zones."
When are the Icarus beta weekends?
Icarus beta weekends have now ended. Rocketwerkz perviously ran seven different beta weekends for players who pre-ordered to test out different maps, biomes, and features. The last weekend was on November 20-21. The next time you'll be able to play will be at launch on December 4.
(Image credit: RocketWerkz)
The basics of Icarus: how survival works
In Icarus, you have three main survival requirements: food, water, and oxygen. Early sources of food include picking berries and hunting small game like rabbits. Sources of water aren't always plentiful, and you won't initially have access to devices that can collect water. You'll want to be mindful of lakes and rivers where you can drink and will likely want to build your bases near a water source. As for oxygen, you'll initially collect the bluish ores called Oxite and put them directly into your suit. Pretty quickly, you'll be able to unlock an Oxidizer which turns Oxite into a breathable source of oxygen at a more efficient rate.
Aside from your three survival meters, you'll also contend with weather events, wild animals, and the temperature. Storms can damage or destroy your structures and will reduce your stamina if you're caught out in them. Extreme temperatures will also aversely affect your stamina. Wild animals like wolves are a constant danger as well.
How many players can co-op support?
You can have up to eight players in a session together. There's good news if you would rather play alone, though: Hall says the game will be tougher, but it'll still be possible to play solo.
So how does Icarus's session-based survival work?
Unlike many other survival games, Icarus operates on missions. In the fiction of the game, you're a prospector on a space station orbiting the alien planet Icarus. You'll take on missions called prospects which ask you to complete certain goals before returning to the station. 
As a player, that means picking out a prospects and being dropped on a particular game map and biome. Early on, you start most prospects fresh, creating new tools, structures, and gear each time you land. Each mission has an objective and a time limit. You might be asked to kill a particularly dangerous animal or take survey equipment to certain locations. At the end, you'll need to return to your drop ship to complete the prospect.
These surface prospects can be short or long, and last for hours, days, or weeks. Think of it a bit like Escape From Tarkov, where you need to get in to a dangerous area, do your job, and get back out, only some of these prospects can last much longer than the ones in Tarkov.
In total, there are 35 prospects of various durations at launch.
To make progress, you'll level up when crafting, mining, or fighting on Icarus. Each new level grants you skill points and blueprint points to unlock new crafting recipes and passive abilities that you keep between sessions.
(Image credit: RocketWerkz)
What are Icarus's maps and biomes like?
Icarus is being developed in the Unreal Engine and the planet's terrain, according to Hall, is all hand-crafted—Icarus is not relying on procedural generation. There will, however, be procedural elements in play that mean things on the planet will change, such as caves being open or closed, weather events, and resources appearing in different places on different missions.
The planet underwent a terraforming effort, but it failed due to the reaction of hidden exotic resources on the planet's surface. This made the planet uninhabitable (except for wildlife transplanted from Earth, which has adapted) so now there's a rush to collect those exotics, which are extremely valuable.
While on the planet, players can craft tools, build roads, bridges, and other planetary infrastructure, which may be necessary to transport the materials they've mined back to their dropship. Players will need to stay hydrated and fed and maintain their oxygen supply, and there's plenty of wildlife to hunt for food or defend against.
Otherwise, the planet doesn't look all that different from Earth. There are trees and other plants, and biomes with deserts, mountains, and snow. The first part of the game takes place in the forest biome, but players will eventually have to brave tougher areas.
And the space station? What's the deal there?
The space station forms the other half of your experience in Icarus. While you can build primitive tools on the planet, you can build advanced ones on your station. Using the exotic resources you bring back to orbit, you can research and create new tech that can help you on your next mission. There are plans in the future to allow players to access vehicles and customize their dropships, but these won't be available at launch.
That doesn't mean you can bring every single thing you've built on your space station with you on your missions. Hall referred to the dropship system as a "chokepoint" since it limits what you can bring down to the planet with you, which he says creates a balance between the "uber-technology" of the space station and the primitive world of the planet. Unforunately we didn't get to check out the space station during our demo.
Icarus has a creative-like mode called Outposts
Originally announced as exclusive to the $100 'supporters edition', Outposts are confirmed as being available to everyone—though those with the supporters edition will get an extra copy of the basic map, and a special Arctic Outpost map too. By default, you'll get a 1km square Forest Outpost map with no time limit and not much in the way of danger. Only one of your characters can be on the map at once, but you can invite Steam friends to join you there whenever you'd like.
The Outpost seems like it will sort of be a sandbox to build cool structures and experiment with ideas you have—though I'm not sure how functional it will be to gameplay in the end given the mission-based structure & resources of Icarus.
(Image credit: RocketWerkz)
What happens if I die? Do I lose my stuff?
Well, that depends. If you run out of oxygen on the planet, someone else can revive you. If you're hurt by an alien creature, another player can heal you. The real danger is if you miss your ride back up into space.
Every contract has a ticking clock based on your dropship's orbital launch window. When that clock expires, your dropship is taking off, with or without you.
If you don't make it back to your ship in time for launch, and you're left behind on the planet, it's over. The character you've been playing is dead, the progress you've made with that player is gone, and everything piece of equipment deployed with that player is lost. 
Hall called getting left behind "the one failure state" in Icarus. So keep an eye on the clock and don't miss your launch—or you'll lose everything.
Icarus has chapters, what are those?
Icarus is launching on December 4, 2021 with what it calls the "First Cohort". This includes "the most Earth-like biomes," the forest, mountains, and desert. Rocketwerkz has also planned DLCs for Icarus to add new biomes and challenges. Two additonal chapters called New Frontier and Dangerous Horizon have been named, but details and release dates aren't yet known.