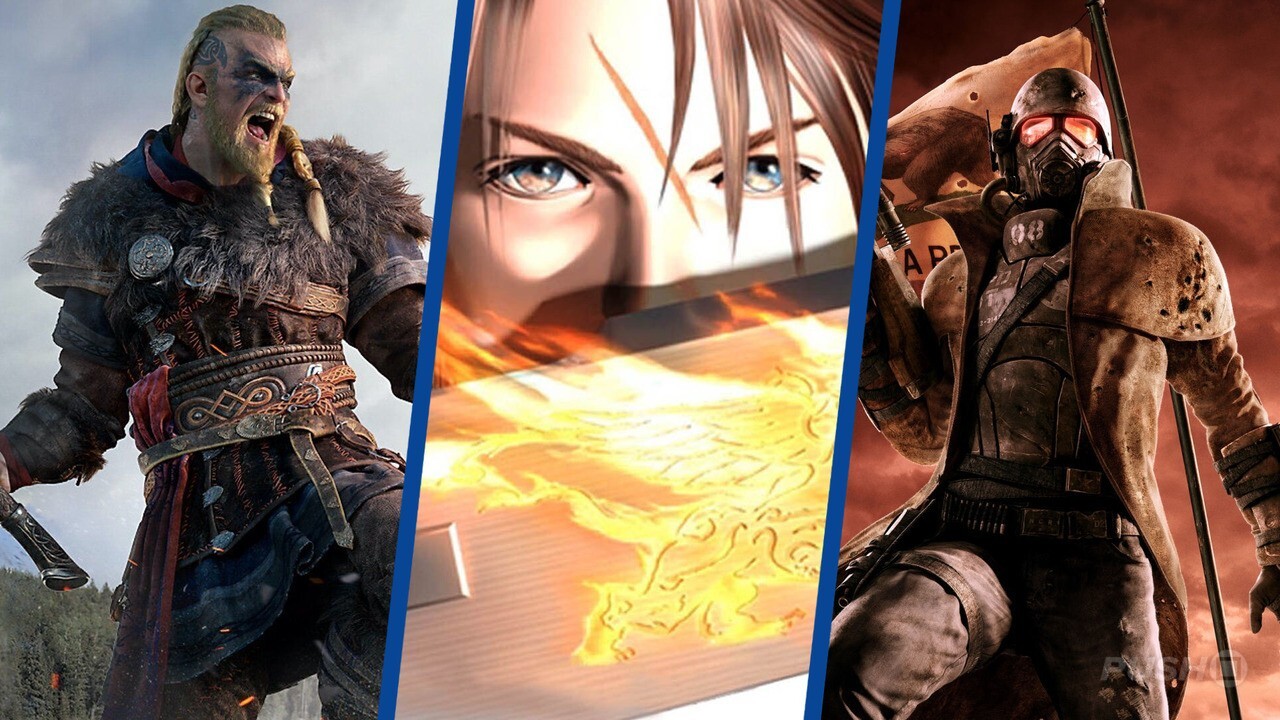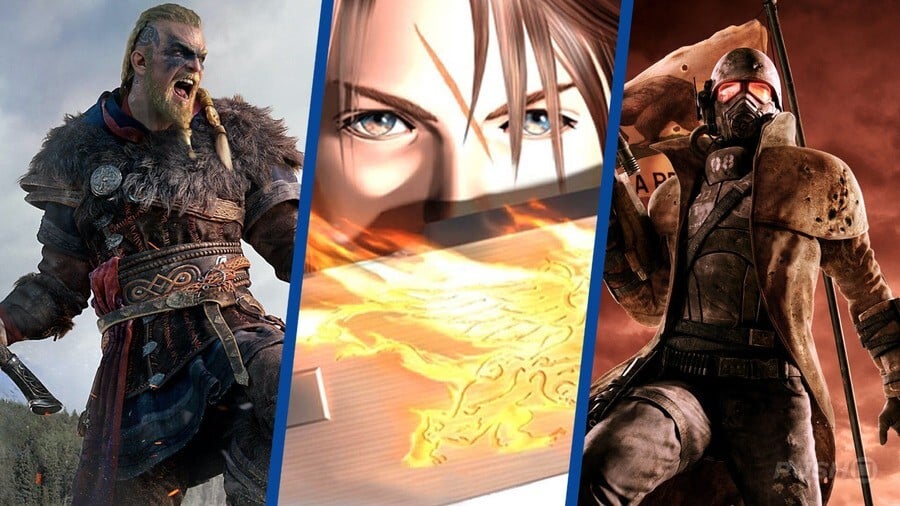 What are the best RPGs on PS Plus? With its three tiers of membership, PS Plus is now home to loads of quality role-playing games — or RPGs for short. In this guide, we're going to list the best RPGs available through PS Plus Essential, PS Plus Extra, PS Plus Premium, and the PS Plus Collection. For much more information on PS Plus as a whole, check out the following guide: All PS Plus Games.
RPGs come in all sorts of shapes and sizes. Some are much more traditional, featuring turn based combat and fairy tale storytelling, while others feature full-on action combat, and more modern sensibilities. What's more, the genre can often be split between Japanese RPGs, like Final Fantasy, and Western RPGs, like Fallout.
If you're looking for even more RPG recommendations, you can take a look at the following guides: Best RPGs on PS5, and Best PS4 RPGs. Both include long, varied lists of the best RPGs across Sony's most recent consoles.
Like our Best PS Plus Games list, the ratings and rankings of these RPGs is decided by the Push Square community. If your favourite RPGs aren't part of this list, you can use the search box below to rate them. You can also click the star icon next to each game on this list to apply your own rating. As such, this list will likely change over time, especially since some of these games may be removed from PS Plus, while other titles could get added.
Please note that a game must have at least 20 ratings for it to appear on this list.
Best PlayStation Games by Platform
Now then, let's get to it. These are the best RPGs on PS Plus, as ranked and rated by you.
Please note that some external links on this page are affiliate links, which means if you click them and make a purchase we may receive a small percentage of the sale. Please read our FTC Disclosure for more information.
Publisher: Focus Home Interactive / Developer: Spiders
Release Date: 30th Jun 2021 (USA) / 30th Jun 2021 (UK/EU)
With its colonial setting and intriguing world where science meets grim fantasy, GreedFall is a unique RPG that's a bit rough around the edges. Following in the footsteps of games like Dragon Age Inquisition, which have an emphasis on both exploration and player-driven dialogue, GreedFall has a solid gameplay core. The weirdly named island of Teer Fradee makes for an atmospheric destination, while the title's party-based action combat is decent.
Publisher: Focus Home Interactive / Developer: Spiders Studio
Release Date: 10th Sep 2019 (USA) / 10th Sep 2019 (UK/EU)
Unique setting with rich world building
Good sense of adventure
Likeable companions
Enjoyable emphasis on character builds
Role-playing feels stunted
Dialogue is incredibly monotonous at times
Publisher: Square Enix / Developer: Square Enix
Release Date: 25th Oct 2016 (USA) / 28th Oct 2016 (UK/EU)
A strange but fun crossover adventure, World of Final Fantasy packs all kinds of character cameos and references into an RPG for all ages. Some of its mechanics are a bit wonky — literally stacking monsters on top of party members to buff their stats just feels wrong — but there's still a lot to like about this quirky title. Well, apart from that magical cat-squirrel thing that follows you around. Final Fantasy's most annoying mascot, and by some distance.
Publisher: Focus Home Interactive / Developer: DON'T NOD
Release Date: 5th Jun 2018 (USA) / 5th Jun 2018 (UK/EU)
Vampyr is an interesting but flawed action RPG. Its grimy city setting and focus on player choice can quite easily hook you, but you'll have to stomach some janky combat and a few rough edges along the way. You play as a vampiric doctor, who essentially has to choose between preserving his humanity and helping the victims of a deadly flu outbreak, or giving in to his newfound lust for blood.
Publisher: Modus Games / Developer: Dreams Uncorporated
Release Date: 20th Jul 2021 (USA) / 20th Jul 2021 (UK/EU)
A visually charming RPG, Cris Tales features interesting environments and some fairly unique turn based battle mechanics. Indeed, you're able to manipulate time in order to get the best of your enemies, opening up all kinds of clever strategies during important fights. The storytelling can be a little haphazard, though, and the difficult curve can feel inconsistent. A cautious recommendation for those seeking a relatively unique, if far from perfect RPG adventure.
Amazingly beautiful animation
Clever use of time mechanics during quests
Every character has unique combat abilities
Occasional typos
Time attacks can be fiddly to set up
Publisher: Ubisoft / Developer: Massive Entertainment
Release Date: 8th Mar 2016 (USA) / 8th Mar 2016 (UK/EU)
If you like looting and equipping guns that make numbers go up, then you'll probably like The Division. Ubisoft's cover-based shooter-RPG sandbox is best enjoyed with friends in co-op, since playing with others lets you strategise with characters builds and tactical roles when fighting through waves of tough opponents. The game itself is set in a dilapidated New York City, which has been devastated by a deadly virus. Gangs now run the streets, and it's up to you to bring order back to the neighbourhood.
Publisher: Ubisoft / Developer: Ubisoft Montreal
Release Date: 12th Nov 2020 (USA) / 12th Nov 2020 (UK/EU)
In a lot of ways, Assassin's Creed Valhalla is like a blend of Origins and Odyssey. Like Origins, there's much more focus on storytelling in this epic Viking saga. But like Odyssey, Valhalla leans heavily on expanded RPG mechanics, such as levelling up, equipment, and skill trees. You play as Eivor, a vision-haunted Viking warrior who leaves Norway to establish a new home in 9th century England. Featuring a lush open world stuffed with all kinds of landmarks and secrets, Valhalla is a real time-sink of a game, but its story-driven acts offer up some of the best characters and narrative beats in the entire series.
Big emphasis on story quests
Engaging story and characters
Gorgeous, refined open world
Lots of player choice
Superb soundtrack
Looks and runs great on PS5
Combat takes a while to get going
Accents are all over the place
Small number of buggy bosses
Publisher: Deep Silver / Developer: Warhorse Studios
Release Date: 13th Feb 2018 (USA) / 13th Feb 2018 (UK/EU)
If you're tired of fantastical RPGs, Kingdom Come: Deliverance is well worth checking out. This historically accurate adventure leans quite heavily into being a medieval simulator, forcing you to learn the ins and outs of methodical action combat, as well as the struggles of daily life. You play as an unlikely hero (or antihero, depending on your choices) — a peasant who ends up becoming a knight in service to the realm. Kingdom Come can be awkward in its design and its slow pace won't be for everyone, but with a bit of patience, it can be an engrossing adventure.
Publisher: Square Enix / Developer: Square Enix
Release Date: 29th Nov 2016 (USA) / 29th Nov 2016 (UK/EU)Available On: PS+ Collection / PS+ Extra
We waited for what felt like an eternity for Final Fantasy XV, and when it finally arrived, it was… well, it was good, but certainly not amazing. Some fans like it a lot more than others, and we're of the opinion that it's an entertaining but sometimes deeply flawed game. A very troubled development cycle shows in the finished product, with its disjointed storytelling and often odd quest design, but there's still a certain kind of magic to XV that's hard to explain. It's got an atmospheric open world, and the road trip structure is both unique and engaging. It's also worth noting that XV improved significantly with the Royal Edition — which packed all of the free updates and DLC into one package, making for a much more cohesive experience.
Publisher: Bethesda Softworks / Developer: Bethesda Game Studios
Release Date: 10th Nov 2015 (USA) / 10th Nov 2015 (UK/EU)Available On: PS+ Collection / PS+ Extra
Fallout 4 may be found lacking in the role-playing department, but the gameplay loop is absolutely top notch. Post-apocalyptic Boston makes for an especially dense open world setting, packed with all kinds of secrets and irradiated enemies. Meanwhile, much improved gunplay allows combat to flourish once you've established a specific character build, and V.A.T.S. — the mechanic that lets you slow time to aim your shots — remains one of Bethesda's best ever innovations. Technical quibbles and some dumb storytelling aside, Fallout 4 can keep you busy for hundreds of hours.
Publisher: Ubisoft / Developer: Ubisoft San Francisco
Release Date: 17th Oct 2017 (USA) / 17th Oct 2017 (UK/EU)
What do you get if you cross Ubisoft, superheroes, and a bunch of foul-mouthed friends made of felt? The answer is South Park: The Fractured But Whole, of course. This sequel to the also brilliant South Park: The Stick of Truth swaps out fantasy for modern vigilante justice, as your custom character joins forces with Cartman's crew to fight evil. Featuring strategic turn-based combat, the titular town to explore, and all the absurd humour you'd expect, this is a highly entertaining game for fans and newcomers.
Publisher: Square Enix / Developer: Square Enix
Release Date: 11th Jul 2017 (USA) / 11th Jul 2017 (UK/EU)
Final Fantasy XII was and still is a divisive game, but despite its PS2 origins, we would argue that it's aged extremely well. XII opts for a more serious story involving political puppeteering and a hefty dose of wartime drama, but it's the sense of adventure that makes the game so endearing. Excellently crafted environments are a joy to explore, and a brilliantly worked job system lets you tweak your party however you like. However, its Gambit system isn't for everyone, as it essentially lets you program your characters so that you don't have to lift a finger during combat. This allows for some impressive technical depth, but, you know, a lot of Final Fantasy fans like pushing buttons every now and then.
Publisher: Nippon Ichi / Developer: Nippon Ichi
Release Date: 26th Aug 2008 (USA) / 20th Feb 2009 (UK/EU)Available On: PS+ Premium
Striving to propel the tactical RPG series to new heights, Disgaea 3: Absence of Justice brought a fresh army of antiheroes to PS3 in 2008. While the property's core gameplay remains intact, this third instalment tries to make some aspects of the experience more approachable, without compromising the crazy amount of depth that the franchise is known for. All in all, it's another solid entry in NIS America's series, complete with over-the-top characters, a suitably daft story, balance-breaking gameplay modifiers, and near infinite content to grind.